Champlain Avenue Books, Inc.
,
established 2012, is a small independent publisher. Our goal is to become a premier publisher of quality work.
Early reviewers and Bloggers,

just let us know and we'll put you on our list for a complementary copy of new releases
Submissions closed for 2016
News:
The Thundering by Megan Davidson was a Finalist in the 2016 Reader's Favorite Book Awards

Congratulations, Megan!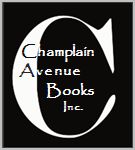 3773 Howard Hughes Parkway
Suite 500
Las Vegas, NV 89169